COMBUSTION CHAMBER COATING
Eco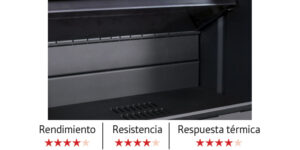 Fireplace interior lined with 3 mm steel panels. They provide fast and powerful heat resistance.
The crease of the surface of the panels gives it a great resistance to tensions and deformations.
FRAMES
4-sided,
4,5cm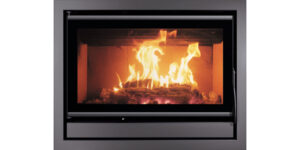 4-sided frame of 4,5 cm
To finish the installation with a frame that covers the four faces of the apparatus.
VENTILATION
Without turbine
Without turbine/without ventilation
The CARBEL inserts and fireplaces are designed to work perfectly with both turbines and without them.
The advantages of not carrying ventilation is that no electrical installation is necessary.
DESCRIPTION
Our HIDRO models are designed to work with firewood, allow you to enjoy the benefits of a fireplace while taking advantage of the heat generated by combustion to heat the radiators at home and produce hot water for sanitary use.
The HIDRO range is characterized by its careful design and aesthetics.
Security and confidence
Our models are equipped with a stainless steel cooling coil that allows the installation of a thermal safety relief valve. In this way, you can enjoy a pleasant and comfortable heating system in your home.