COMBUSTION CHAMBER COATING
Vermiculite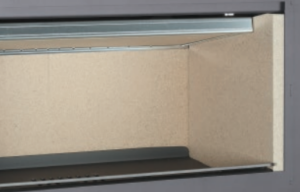 Interior lined with Vermiculite sheets. Their refractory properties offer higher temperatures, boosting the combustion of the firewoode
VENTILATION
2 fans
 Equipped with 2 fans and 2 outlets for channeling hot air.
DESCRIPTION
Primary air entry through the ash pan, for easy lighting.
8 mm. base for higher resistence.
The second air intake, located on the upper part of the insert, creates a curtain of hot air that helps keep the glass clean for a longer time while improving combustion.
Double baffle system, easy to remove. Two deflectors help to reduce heat loss, keeping the temperature in the home as comfortable as possible. This way we achieve the highest level of energy efficiency while minimising CO2 emissions.
Flue pipe 20 cm, adaptable to the majority of installations.