COMBUSTION CHAMBER COATING
Vermiculite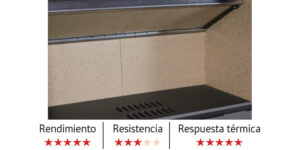 Interior lined with vermiculite plates.
Thanks to its refractory properties, higher temperatures are achieved favoring the combustion of firewood.
FRAMES
3-sided,
4,5cm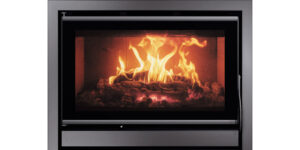 3-sided frame of 4,5cm
To finish the installation of the device with a discreet frame that covers the sides and the top of the device.
4-sided,
4,5cm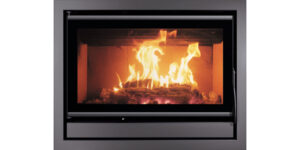 4-sided frame of 4,5 cm
To finish the installation with a frame that covers the four faces of the apparatus.
Special,
9cm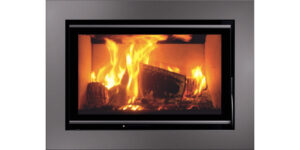 4-sided frame of 9cm.
Elegant frame that covers the 4 sides of the appliance integrating the fan cover so that it is not visible.
VENTILATION
Turbine 180 m3/h
Turbine 180 m3/h
It has two positions:
Operation at maximum speed.
Operation with automatic safety thermostat
DESCRIPTION
The perfect solution when renovating open fireplaces.
Thanks to its 49,5 cm. height, the H-69 T fits in most open fireplaces without the need for masonry work.
Includes 180 m3/h. turbine with switching device and safety thermostat.
Efficiency 75%.
Vermiculite combustion chamber.
Available with 3 and 4 sided frame, 4,5 cm.