Power: 6 kW. - 15 kW
Efficiency: 78%
CO emissions: 0,09%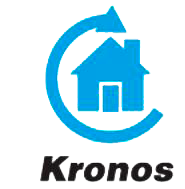 Equipped with the new generation of KRONOS inserts
COMBUSTION CHAMBER COATING
Vermiculite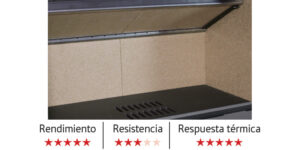 Interior lined with vermiculite plates.
Thanks to its refractory properties, higher temperatures are achieved favoring the combustion of firewood.
Eco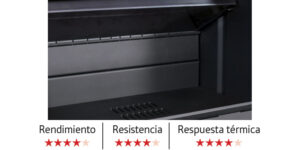 Fireplace interior lined with 3 mm steel panels. They provide fast and powerful heat resistance.
El pliegue de la superficie de los paneles le confiere una gran resistencia a tensiones y deformaciones.
Termatek
FRAMES
3-sided,
4,5cm

3-sided frame of 4,5cm
To finish the installation of the device with a discreet frame that covers the sides and the top of the device.
4-sided,
4,5cm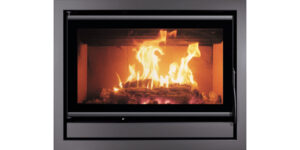 4-sided frame of 4,5 cm
To finish the installation with a frame that covers the four faces of the apparatus.
Special,
9cm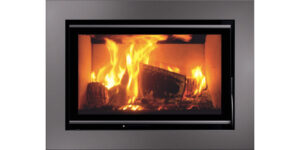 4-sided frame of 9cm.
Elegant frame that covers the 4 sides of the appliance integrating the fan cover so that it is not visible.
Cristal
Passpartout
VENTILATION
Four three-position fans
4-way fans:
Operation at minimum speed

Operation at maximum speed.

Operation with automatic safety thermostat, the ventilation system is automatically activated when detecting 45º or more in the bottom of the insert
DESCRIPTION
Discover the new range of cassette fireplaces with more features!
New cassette of great size and excellent performance.
Larger combustion chamber.
Optional external air inlet.
Front air outlet control system.
Certified by TÜV Rheinland.
Novelty frame Crystal.